Posted on Sep 25th 2022
Now available to order, Top Ace by Robert Taylor. Robert's breathtaking sketch has been faithfully recreated as a high quality giclée fine art print on textured velvet paper as a tribute to the renowned Ace shown and the brave pilots who flew with him in the 56th Fighter Group, known as the "Wolfpack." Only 26 copies of this are available globally, published exclusively by Robert, and each print is hand-titled, numbered, and signed by Robert.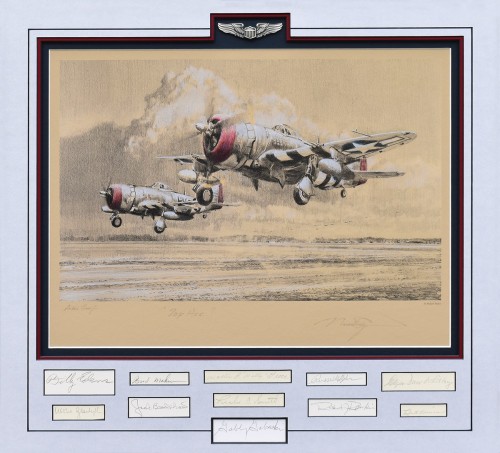 Now available to order, Tupolev Tu-22M : Soviet/Russian Swing-Wing Heavy Bomber By Yefim Gordon Dmitriy Komissarov. The activities of the Tu-22M during the Soviet and post-Soviet eras are discussed in this book, along with its development and most recent upgrades. A variety of color profiles and line drawings are also included, along with fleet listings, a [...]
Now available to order, Breakout From Normandy by Anthony Saunders. Faithfully reproduced as a Limited Edition print, each copy has been personally signed by artist Anthony Saunders and serves as a fitting tribute to all those who flew and fought in Normandy during the campaign to liberate France.lways check back for new Aviation Art Prints, Books [...]
Now available to order, Strike Force by Robert Taylor. This serves as evidence of one of the riskiest long-range strike missions in air combat history. A wonderful addition for all collectors with an interest in the history of air combat, six of the very competent Israeli Air Force pilots who participated in Operation Opera sign the [...]
Now available to order, Hot Stuff - Rolling by Robert Taylor. We are happy to recreate this significant historical work as a limited edition print in honor of that final fixed-wing carrier launch, and each print has been signed by the Phantom's pilot.Always check back for new Aviation Art Prints, Books and Collectibles being added daily.
Now available to order, Pre-Flight Briefing by Richard Taylor. Two well-known World War Two veterans who each flew the incredible Mosquito in combat have individually signed and authenticated the edition, which was completed in Richard's "trademark" technique of graphite, wash, and colored accents years ago.Always check back for new Aviation Art Prints, Books and Collectibles being added [...]
Joseph Albert Walker, the chief research test pilot for NASA, flew 25 times in the North American Aviation X-15A hypersonic research rocketplanes between 1960 and 1963. His 24th flight was the 90th of the X-15 program and the 21st for the Number 3 X-15, 56-6672.Walker and the X-15 were airdropped over Smith Ranch Dry Lake [...]
Now available to order, Boeing 707 : A Legends of Flight Illustrated History by Wolfgang Borgmann. Beginning in the late 1950s, the Boeing 707 revolutionized passenger aviation like almost no other aircraft, as the elegant four-engine aircraft made it possible to serve intercontinental long-haul routes quickly and economically.Planejunkie is always adding new Military Art Prints, Aviation Art [...]
Now available to order, Scooter Launch by Peter Chilelli. The Douglas A-4 Skyhawk is a single-seat subsonic carrier-capable light attack aircraft developed for the United States Navy and United States Marine Corps in the early 1950s. The delta-winged, single turbojet engined Skyhawk was designed and produced by Douglas Aircraft Company, and later by McDonnell Douglas. It was [...]
Now available to order, The 29th Waffen-SS Grenadier Division "Italienische Nr.1": And Italians in Other Units of the Waffen-SS : An Illustrated History By Massimiliano Afiero. This work includes histories of the Italian Legion and the 29th division, extensive interviews with Italian SS veterans from various units, and many excellent photographs from private collections in Europe.Planejunkie [...]